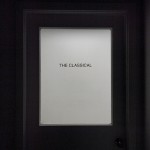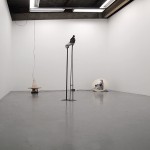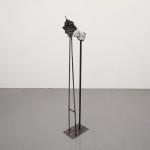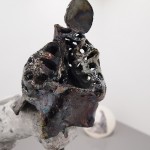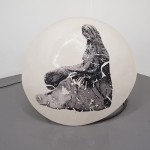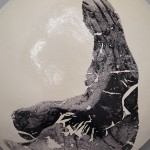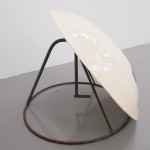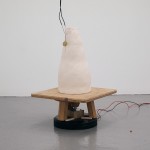 The Classical
The 'classical', 'classicism', and 'classic': these interchangeable terms are surprisingly imprecise in art history.  Anna Johns recent exhibition at 55 Sydenham Road, entitled
The Classical
, plays on this ambiguity in suitably inconsistent ways.
Johns' first engagement with the term is probably satirical. Unlike its shadowy other in Romanticism, Classical art values what is harmonious and detached, objective and ordered, while at once striving for the ideal and transcendent. These now seemingly dead values are largely absent in Johns' exhibition. Instead the installation is consciously material, making a point of embracing the coarse and unhewn over the transcendent. There is also a dissonance and intentionally unresolved quality among the objects comprising the installation and their diverse material components. We are, for example, presented with a hanging sewing needle, a barely hidden motor, a rough plywood pedestal, a found metal object, rusted steel stands, and bisque-fired clay intentionally left unglazed.  It is true that these diverse materials are distilled into an installation of formal elegance, which is organized around a minimal and balanced triangular arrangement of objects, with the occasional juxtaposition of polished glazed stoneware. Yet the overall sense of the exhibition appears to have more in common with the expressive discords of the Romantic than it does the Classical. After all these aren't rational objects: they are delirious, even absurd objects whose formal elegance and structured organization is always belied by a dramatic ambiance where darker drives are at play. This duskier dimension – and I use 'dusk' here pointedly, as Johns work evokes this liminal space in temperament – is perhaps most obvious in the insistent atonal drone of an amplified needle dragging across a sculpture, which in turn forms the 'soundtrack' for the viewing experience. So the work is premised on an intentionally false statement, a false title, as the characteristics of Classical art aren't – at least on the surface of things – to be found in The Classical. And where such classical characteristics may emerge, they do so in a minor or supporting role.
Johns second engagement with the term 'the classical' is more complex, and less overtly in the league of irony. Another way we might understand the term 'classical' is that it involves a direct homage to antique art, with all the inherent conservatism involved with attempting to draw clarity from backward looking glances into history. Yet we can partially rule out conservatism and clarity from The Classical. It is an exhibition that is neither clear in its intended meanings (the work courts poetic ambiguity and polysemy), nor conservative in its outlook. Indeed there is a type of radicalism in the work that draws inspiration from post-punk and its superficial relationship to political Leftism (I will return to this later). But there is a looking back at history here all the same; an act that is inevitably 'conservative'. And there is an antique art that is being explored and exhumed, though in a historically complicated way.
This complexity might be described as a looking back upon modernism as antiquity. For example, John's Old Girl (2013) displays a decal of a Picasso ceramic figurine, which itself used Classical art as a source of inspiration during his – and more generally the modern periods – "return to order" of the 30s. It is in this period that Picasso would take inspiration from visits to the archeological Museum of Naples, and subsequently reinvigorate the old idea that the art of the Ancient Greeks offered a glimpse of culture at its apex. That Picasso's modernism could be so connected to the classical, and that the modern and the classical could be integrated in this way, is overtly played out in Johns Old Girl, which seems to emphasize this fact by depicting the decal figure looking back, as if upon the history that has come before her.   More specifically, what Old Girl appears to be arguing is that modernism – its novelty, it radical rupture from history – should be understood as simultaneously classical. Ergo, modernism was already an 'old girl'. And even if it was fleetingly mistaken as a young girl in Picasso's hands, its canonization has made an antique of it now. Extending this logic, we can say that The Classical's appropriation of Picasso's modernism is a kind of double act inasmuch as it steals from a classical language masked in the language of modernity.
The other direction Johns' exhibition is pushing toward is musical, or perhaps its mirror image in 'anti-music'. Alongside her art practice, John is a musician. In this installation she has, in a skeletal and primitive way, recreated a classical 'three piece' band. At the front of the installation we see an elongated metal structure that looks a great deal like a microphone stand (Old Bull, 2011-13).  Atop of this stand sits a ceramic bull, which is the perfect metaphor for the egoism and strutting masculinity we associate with a bands singer, or 'front man'. Behind this bull we find a rounded stoneware disk, which holds more than a passing resemblance to a kick drum. Completing the triangle is the already mentioned constant drone produced by a sonic sculpture (The Path of Least Resistance, 2013). This drone acts as the bands 'song', or perhaps a noise guitarist, or perhaps a repetitive and monotonic rhythmic line.
Obviously this is not a classical band in the contemporary, popular sense. There are no players, it is entirely automated (albeit in a minimal and knowingly crude way), and it is completely imaginary. It is a band deconstructed to the barest and most nascent formal elements of its structure. But it is a band nonetheless; one that creatively bridges the divide between visual art and art music in a manner that makes common explorations into experimental art-music seem overly literal and even sycophantic in their insistence on actually playing noise through traditional rock instrumentation. Where the latter continues to emphasize and valorize the presence of music and the musician, John summons an absence (of both players and instrumentation), rejecting in turn the aestheticisation of the musician and the embodiment of performance.
Perhaps only an artist who has the difficult pleasure of actually being in working bands could make such a painful deconstruction of the fruits of a bands labor. I say this as it seems to me that John's imaginary band makes concrete the sense of automation that bands members experience in having to repeat material that has long since moved from the sense of discovery that accompanies its original creation, to the monotony of its retelling gig after gig. The disappearance in the installation of any players, along with the repetition of the 'song' this fictive band performs, emphasizes a sense of absence and duplication that, ironically, is a more accurate representation of live performance than the presence and immediacy we traditionally associate it.
Additionally, this connection of art to 'experimental art music' can be found in the direct reference to the post-punk band The Fall, whose song 'The Classical' (a stand out of their seminal album of 1983, entitled Hex Induction Hour) forms partial inspiration for the exhibitions title.  This connection is worth exploring further.
One way John's work can best be compared to The Fall is in what I would call the latters Brutalism, which amounted to its counter to the early 80s New Romantic movement. The Fall were certainly not a neo or new romantic band in the manner of many punk and post-punk groups. As lead singer Mark E Smith chides in 'The Classical': "too much Romantics here. I destroy Romantics, actors." The inference is that Smith celebrates a music that exhibits a material honesty – that is concrete and 'real' – rather than hiding behind a decorative or emotive mask that strives toward a sonic sublime. On the contrary, and much like Brutalist architecture the band's music mimics sonically, The Fall held a strong desire to openly display the structure of their songs, laying bare the materiality of instrumentation, performance and recording processes. Also like Brutalist architecture, The Fall celebrated an intentionally uncommunicative, rough, and angular style, coupled with an uncompromising anti-bourgeoisie attitude.
Given Johns' contextualization of the show by way of reference to the Fall, we might then view those unhewn and rough elements of the installation, with their own embrace of material honesty and valuation of materials 'as is', as a similarly Brutalist gesture. What might also be a Brutalist gesture is the symmetry of the three components that make up the installation, which structurally evoke a highly planned and democratic evenness. This evenness Johns' couples with the obdurate 'song' these elements play. Basically, it is not then too great a stretch say that Johns The Classical is actively recalling the self-same socially progressive and anti-bourgeoisie stance of Brutalist architecture, at least as sonically embodied in the songs of The Fall.
If this is the case then Johns' The Classical is certainly not a re-hashing of a 'new' Neo-Romantic gesture, though obviously neither can this work be viewed as a desire to reinstate a 'new' Classicism. Rather, the installation conflates these terms, playing a type of hypothetical and imaginary game with this old binary. In doing so it places their now antique dialectic into a contemporary conflict. This engagement and subsequent renewal of the past in the present is what makes the exhibition both an 'old girl' and a newborn. It's what makes it both backward looking and speculative about art's future.  More importantly it is through this hypothetical game, and the dialectical conflict it sets in motion, that the exhibition takes its place in history; that it becomes properly 'historical'. Given that the art of the contemporary is so disinterested in the specific historicity and dialectical tensions that it has inherited, Johns' hypothetical game with art history may seem anarchronistic. Yet perhaps this is precisely what makes The Classical so pleasingly  'classical'.
Shane Haseman, 2013

THE CLASSICAL
Anna John
9 – 18/8/13