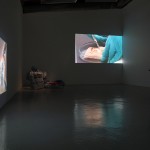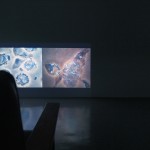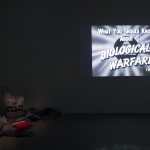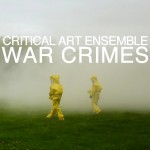 By 2004, CAE couldn't take it any more. Alone at the top of our list of egregious events, occasions, and actions, we felt compelled to respond to the use of unilateral hard power by the neoconservative government in the US (backed by the UK and Australia). This was their sole device for conducting foreign policy, along with the dogmatic belief that neoliberal nation-building was possible through military force. In order to maintain public acceptance, or at least indifference, to permanent war, public spectacles that encouraged fear were mounted on a regular basis. Two key celebrities driving these spectacles were germs and radiation.
In the collection of projects entitled War Crimes, CAE shows some of the counter-spectacle we created ("Marching Plague," "Target Deception," and "Radiation Burn") in an attempt to re-tether the perceptions of these "weapons" to history, science, and materiality. We also contrast political theater (both ours and theirs) with actual atrocities and war crimes in the project "Immolation"—which chronicles the use of various incendiary weapons against civilians. Finally, CAE offers a small primer on war propaganda favored over the past two decades. Together, we hope to give our viewers glimpses of the face of 21st Century authoritarianism, combined with suggestions for tactics to resist it.
Steve Kurtz


The opening night will also be host to the official Asian-Pacific launch of CAE's book Disturbances, published by Four Corners Books (UK).
"For a rising generation of artists and intellectuals across the world, disabused of their illusions, fully aware of the transnational powers of the corporate state, and filled with the desire to make any knowledge they acquire directly useful to people on the ground, the twenty-five-year run of Critical Art Ensemble will be a great inspiration."—Brian Holmes, from his Introduction
Since its formation in 1987, Critical Art Ensemble has set out to explore the intersections between art, critical theory, technology and political activism. The award-winning group of tactical media practitioners has exhibited and performed in a variety of venues internationally, from the street to the museum to the internet. Disturbances is the first book to assess the group's 25-year history, examining the environmental, political and bio-technological themes of their various initiatives.
In the publication, each project is presented by the group itself, from their early live multimedia productions; to their development of models of electronic civil disobedience, digital resistance, and contestational biology and ecology; to their most recent tactical media projects.
BOOKS CURRENTLY AVAILABLE AT 55
WAR CRIMES
Critical Art Ensemble
3 – 9/6/13