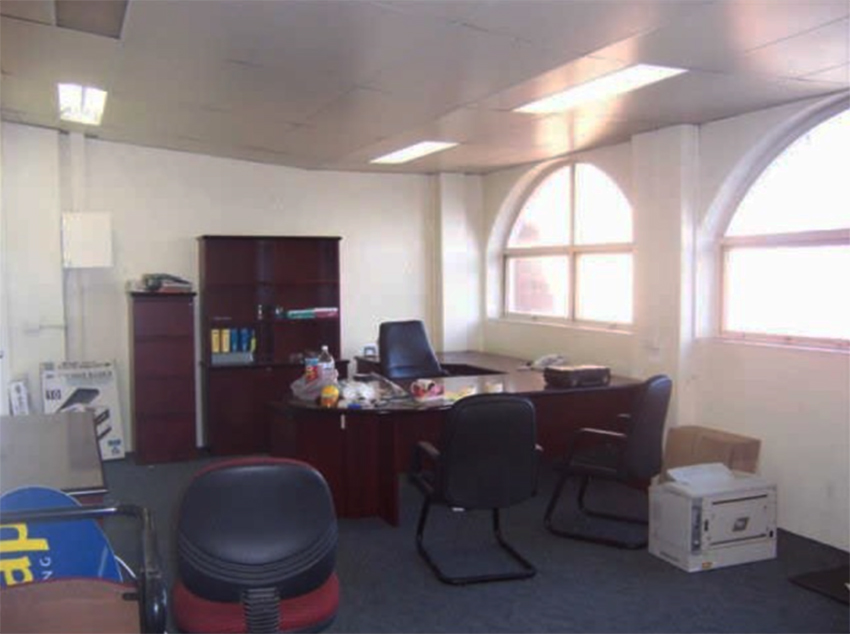 back in February, 2017
pages coming soon…
JELENA TELECKI
LUKE PARKER
ANNA JOHN
PAUL GREEDY
IAKOVOS AMPERIDIS
SIMON YATES
ELISE HARMSEN
NICK STRIKE
SACH CATTS
This is an art space situated at a commercial property once occupied by an undercover KGB unit between 1983-1990. The late Dr Jim Cairns (former Deputy Prime Minister for the Whitlam Government) was reported to be the owner of the estate during this period. It was later revealed that a team of scientists conducted intensive research on the psychokinetic powers of Nina Kulagina (1926-1990).
Following Nina's death, the building came under review by the NSW Government as a result of complaints made by the subsequent tenants. On evaluation of the premises, the Department of Planning reported abnormal activity on site and requested assistance from the Australian Secret Intelligence Organisation (ASIO). Their paranormal investigative unit concluded that a poltergeist had taken possession of the lot. Several attempts were made to channel the specter for intelligence purposes, all of which failed and resulted in twelve unexplained deaths.
In correspondence with the building's alleged host, 55 acts as a portal of autonomy from commercial/institutional coercion and co-option, providing running room for artists to meddle with the unorthodox in non-specific media. It is committed to showcasing new work and/or work that has never been shown in Sydney, and in exhibiting artists that have peripheral sensibilities – ideologies and processes that are unconventional, complex and disjointed.
Founded and directed by Iakovos Amperidis, the space opened on April 7th 2011. In 2012 it was co-directed with artist Leah McPherson, and between 2013-2014 with curator/writer Eleanor Ivory Weber.
Since 2015, 55 represents nine artists who also coordinate an open exhibition program – 66.6% by proposal and invitation.
Originally a single exhibition room, 55 has expanded to occupy the entire first floor of the warehouse, now housing two gallery spaces and an adjacent artist-studio complex.
55 is a leased property, and not for profit.
Welcome.

---
Program Coordinators: Iakovos Amperidis / Paul Greedy / Jelena Telecki / Nick Strike / Anna John / Simon Yates / Elise Harmsen / Luke Parker / Sach Catts
Exhibitions Manager: Charlotte Hickson (2016-present)
Advisory Board: (coming soon)
Acknowledgements and gratitude: Leah McPherson (2012) / Eleanor Ivory Weber (2013-2014) / Nanette Orly, Conseulo Cavaniglia, Carla Cescon, Talia Smith (2015) / Amanda Williams (2015-16) / Uri Auerbach, Biljana Jancic, Nina Knezevic, Del Lumanta, Megan Hanson, Hester Gascoigne (2014-15) / Francesca Heinz (2014).
Fundraiser Contributors 2011-16 (work in progress…):
Denis Beaubois, Elizabeth Pulie, Alex Kiers, Sarah Goffman, Justin Trendall, Yasmin Smith, Sumugan Sivanesan, Connie Anthes, Alex Gawronski, Kenzee Patterson, Richard Kean, Anne Ferran, Andrew Newman, Rachel Scott, Alison McGregor, Zuza Zuchowski, Clare Milledge, Emma Davidson, Leah McPherson, Emma Ramsay, Emma White, Eloise Kirk, Shane Haseman, Ian Milliss, Matthew Hopkins, Vincent O'Connor, Kenzie Larsen, Vicki Papageorgopoulos, Francesca Heinz, Koji Ryui, Ella Rose Barclay, Nick Strike, Samantha Whttingham, Gianni Wise, Jesse Hogan, Steven Pennington, Phil Aston Williams, Samuel Bruce, Karena Keys, Sach Catts, Scott Donovan, Ernest Aaron, Daniel Green, Ruark Lewis, Sean Kerr, Philipa Veitch, Emily Hasselhoof, Mathys Gerber, Hany Armanious, Daniel Boyd, Mark Brown, Bonita Bub, Carla Cescon, Sarah Contos, Mikala Dwyer, Marya Elimelakh, et al., Jan Fieldsend, Paul Greedy, David Haines, Emily Hunt, Biljana Jancic, Anna John, Anna Kristensen, Ruark Lewis, Ollie McKenzie, Michael Moran, Ms&Mr, JD Reforma, Marilyn Schneider, Rachel Scott, Keg De Souza, Teo Treloar, Marian Tubbs, what, Andrew Hurle, Simon Yates, Jelena Telecki-Starcevic, Anna John, Justene Williams, Mike Parr, Mitch Cairns, Mitchel Cumming, Brendan Van Hek, Consuelo Cavaniglia, Jack Langan Dunbar, Ali Noble, Stephen Ralph, Sarah Newall, Zoe Robertson, Nicola Smith, Tony Albert, Neil Beedie, Anna Kristensen, Bianca Hester, Agatha Gothe-Snape, Anna McMahon, Ben Denham , Ben Terakes, Brian Fuata, Cybele Cox, Elise Harmsen, Kate Beckingham, Luke Parker, Lynne Barwick, Michelle Hanlin, Patrick Head, Robert Pulie, Sean O'Connell, Tim Schultz, Vicky Browne, what
Thanks to everyone who's put down cash on our fundraisers and crowdfunding over the years.
Many thanks to the Australia Council for the Arts, its arts funding and advisory body for assisting us between May 2016 – May 2017.
55 acknowledges the prior ownership of this area by the Cadigal people who were dispossessed by European invasion more than two hundred years ago.
---
"It represents the most conceited, convoluted and contrived contemporary art in Australia – an exclusive clique, full of wanky mumbo-jumbo types who claim a posterity they don't deserve. I of course understand the need for artist-run spaces, but most just make room for stuff we could do without, and such is the terrible fate of this gallery. Luckily, the public will only have to be subjected to their pestilent pretensions for a maximum two years, as it will no doubt sink under the weight of its own obscurity."
John Mcdonald, Sydney Morning Herald